Foul Body Autopsy Wins Battle For Bloodstock Final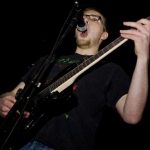 The incredibly talented one-man-band that is Foul Body Autopsy was 'The Man From Bloodstock's pick of our finalist at last weeks Battle For Bloodstock. He'll be going off to play at Bloodstock Open Air, and perhaps continue to play other prestigious metal events such as Wacken, should he prove his… erm… metal.
Congratulations to all the finalists that proved heavy music still has a home in Leicester.