Pancreatic Cancer Rock Fundraiser
Event Navigation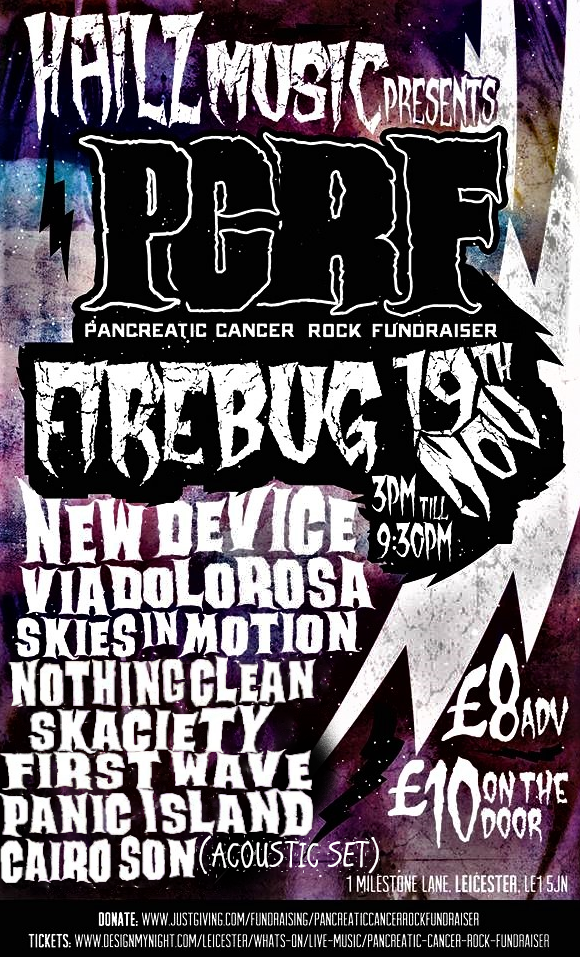 TICKETS: £8 ADV, £10 OTD, https://www.designmynight.com/leicester/whats-on/live-music/pancreatic-cancer-rock-fundraiser?t=tickets
An all day Rock charity event, raising money & awareness for Pancreatic Cancer and in loving memory of our good friend Peter Toms.
Held at Firebug Bar, Leicester: 1 Millstone Ln, Leicester LE1 5JN
Live music from 3pm-9.30pm, after party in main bar til Midnight!
HEADLINERS: New Device!!!
https://www.facebook.com/NewDeviceUK/
New Device are a determined bunch of rock n roll mavericks, with a never say die attitude that reeks of no compromise. Having suffered from dodgy managers, false promises and personnel changes they remain undeterred to live their dream and have recently released the critically acclaimed EP – Devil's On The Run.
Recently signing to the fast rising, TMR Band Management, they gear up to go again in 2017, hell-bent on taking their music to a ever growing audience
PLUS:
Via Dolorosa:
https://www.facebook.com/viadolorosaband/
As a female fronted band, the Via Dolorosa prides in voicing the importance of feminism and equality. Hailey brings to the band her on personal experiences which are illustrated within her songwriting. Denny and Chris both have years of experience in performing in various other rock bands which gives VD the hard rock edge, whereas Liam comes from the hardcore punk scene and brings out a strong punk sound. With these collaborations, VD infuses a rare mix of punk, metal and rock with a strong melody.
With influences from Skunk Anansie, Nirvana, Queens of a Stone Age, Hole and Brody Dale.
Wear two sets of ear defenders for extra protection!
VD – Catchy as F@$K!!!
Skies In Motion:
https://www.facebook.com/skiesinmotion/
Skies In Motion are a 5 piece metal band from Derby UK. Fueled by their passion for creating music, they always deliver an energetic live show. With their debut Album coming out in 2017 and a constant list of upcoming shows, they are one to watch"
Nothing Clean:
https://www.facebook.com/NothingClean/
Fast hardcore band from Leicester UK, with members of Toecutter, Meatpacker, Mangle, Chief Wiggum, Diet Pills, Hangover Heartattack, etc. Brand new LP Cheat coming out in 2017.
Skaciety:
https://www.facebook.com/Skaciety/
Signed to Bad Granola Records, we are a Ska-Punk band from Sittingbourne, Kent in the UK. They are releasing their sophomore album "Overstaying Our Welcome" at the end of summer 2017, produced by Dave Chang (Lightyear, Capdown etc.)
FirstWavePunk:
https://www.facebook.com/firstwavepunk/
Leicester punk band, Firstwave stand for punk rock , equality for all regardless of race sexuality or creed even drummers are welcome. Band Members: Scundy – Vox/Bass, warney/ guitar vocals, Stoodge – Drums/Vo.
Panic Island:
https://www.facebook.com/PanicIsland/
Panic Island are a high energy, Modern rock and roll band!!!
The group deliver an immense energy when they perform live. Their ferociousness on stage is akin to bands such as 'Rage Against the Machine', 'Faith No More' or the 'Red Hot Chili Peppers'.
Cairo Son:
https://www.facebook.com/cairosonofficial/
Cairo Son are a three-piece band based in London, whose musical inspirations and influences are as diverse as their background. With a dark and bitter sound, this post-grunge stoner rock band occupy a musical landscape somewhere between Soundgarden's alternative edge and Alice In Chains's destructive anthems. Hard, riff-heavy and lyrically brutally honest, Cairo Son create a sound for the future that's fresh, instant and utterly unwavering in its intent.
With the release of their debut album "Heart Against The Feather" in 2012 and 2016's follow up album "Storm Clouds", Cairo Son's fan base has grown in both number and loyalty after a relentless gigging schedule. Fronted by the explosive vocals and blistering guitar work of Magdy, driven by a groove heavy rhythm section with Rico on bass and Ed on drums, the band have received rave reviews and radio airplay both here in the UK and overseas.
All proceeds will be going to PCRF (Pancreatic Cancer Research Fund).
https://www.facebook.com/PancreaticCancerResearchFund/
To donate please click on the link: https://www.justgiving.com/fundraising/pancreaticcancerrockfundraiser
Related Events
No Comments