Hypercombo
Event Navigation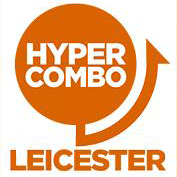 Hyper Combo Leicester is a gaming community formed to play Fighting Games the way they were intended to be played – one-on-one, offline, in the same room as your opponent!
We run a weekly fight night every other Monday at Firebug, an awesome bar in the heart of Leicester. Entry for casuals on our fight nights will always be free. We also run tournaments, these are not every time but will always be posted well in advance on this page. When we run these, we will charge a small fee, the majority of which goes to the prize pool (with a small portion being used to meet the costs of running and building the community). We're a friendly group of people, with experience levels ranging from fighting game beginners, to old-school arcade nerds, to cutting edge competitive players.
Our philosophy revolves around three core concepts – being awesome to each other, building our community and having fun. We play all sorts of fighting games, If you come along and think we should include a specific game – let us know! Get involved! New to Fighting Games? You couldn't be in a better place – everyone here is willing to lend a hand and help you enjoy this unique and exciting genre.
Primary platform is PS4, but Xbox One can be provided for specific games, please bring your own controller! (BYOC)
Related Events
No Comments