Feedback Club Night
May 6, 2016 @ 11:00 pm

-

11:55 pm
Event Navigation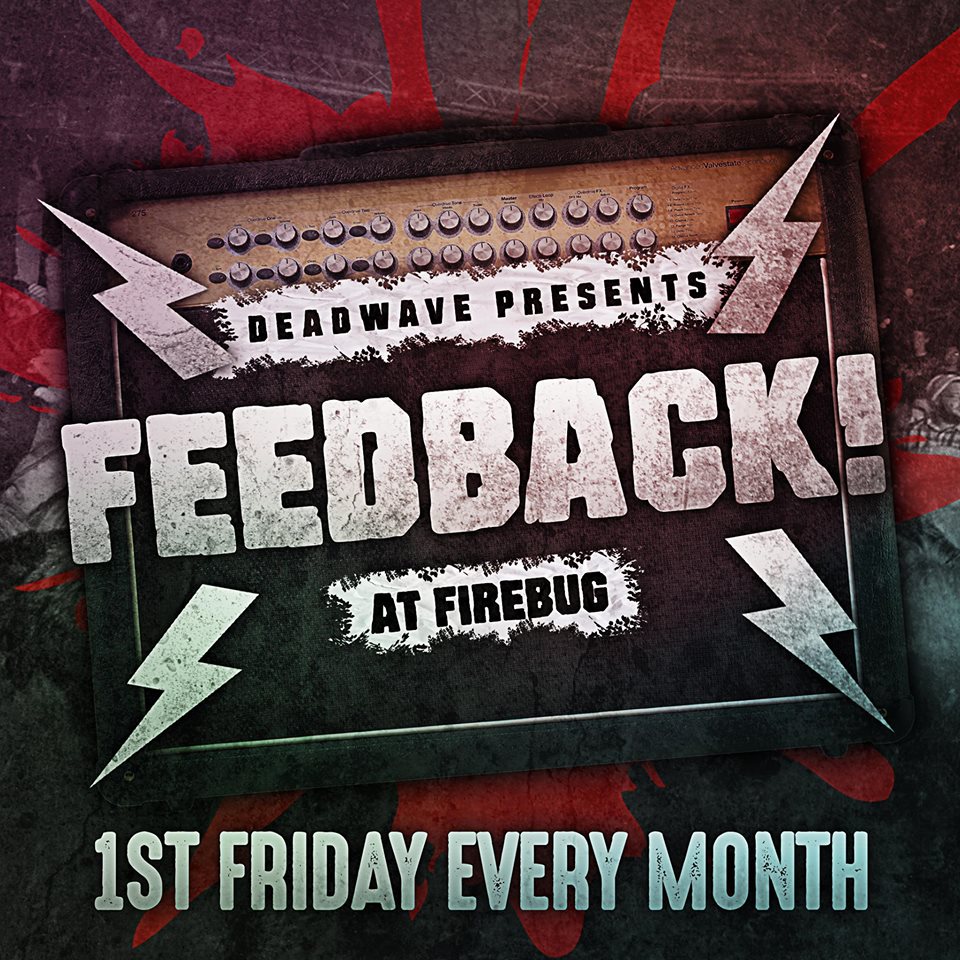 ++++++++++++ Dead/Wave Presents ++++++++++
FEEDBACK! – 1st Friday of EVERY month – at Firebug!
++++++++++++++++++++++++++++++++++++++++
Are your Friday nights lacking a little…Rock'n'Roll?
Welcome to the home of Leicesters ONLY dedicated Rock / Metal / Alternative venue for Friday nights – at Firebug!
Yes, you also read it correctly at the top too, friends;
We're letting you lucky lot in for FREE – £0 entry fee!
ALL NIGHT – FOR EVERYONE; IT'S FREE TO GET IN!
+++++++++++ MUSIC ON THE NIGHT +++++++++++
+++++++++++++++++++++++++++++++++++++++++
Expect all the usual suspects – Mixed and mashed up!
:Rock / Metal / Punk / Deathcore / Thrash / Alternative:
Avenged Sevenfold, Slipknot, Parkway Drive, Slayer, Bring Me The Horizon, KoRn, A Day To Remember, Trivium, Amon Amarth, Motorhead, Skindred, Emmure, Alien Ant Farm, Limp Bizkit, Bullet For My Valentine, Lamb Of God, Beartooth, Marilyn Manson, Asking Alexandria, Rammstein, Blink 182, Megadave, Nine inch Nails, Hactivist, Sepultura, Linkin Park, Metallica, While She Sleeps, Devildriver, Turisas, Enter Shikari, Muse, Hatebreed, Iron Maiden, Attila, Machine Head, Disturbed, System Of A Down, Motley Crue, Fallout Boy, etc, etc *
Basically – ANYTHING that ROCKS!!!
*Don't be surprised with the odd EDM or 90's Pop track thrown in the mix for fun too – You've all been warned!!!
++++++++ DRINKS OFFERS ON THE NIGHT ++++++
++++++++++++++++++++++++++++++++++++++++++
FIREBUG SHOTS – Only £1!
SELECTED COCKTAILS – Only £2:50!
THERE'S ALSO BOTTLES, SPIRITS, DRAFT BEER!
********KEEP A LOOKOUT FOR OUR SPECIALS********
We'll have a 'Limited Edition' cocktail / shooter made especially for each specific event – only for you guys!
If you like weird and wacky cocktails that don't burn a hole in your pocket – Keep a look-out *HERE* as this will be updated once a month. Just you wait and see…
++++++++++ THE DJ'S ON THE NIGHT +++++++++
++++++++++++++++++++++++++++++++++++++++
Our DJ's are super-friendly and will just about play anything – so don't be shy, ask them for a few songs!
We're lucky enough to be living in Leicester, but these guys are well known all over the UK – playing at Download, Sonisphere, Metal Hammer and Kerrang! events just to name a few… They'll make sure YOU have a good time!
++++++++++++++++ LASTLY… ++++++++++++++++
The BEST way to be ahead of everybody else and keep up to date is to give us a 'Like' on here and we'll tell you about ALLLLL the promotions and offers we'll have throughout the year – some are absolutely amazing!
If you're watching a band beforehand – STICK AROUND!
The DJ's will be set up in no time…
If YOU'RE in the band, give them your E.P / Album and it might even get played later that night too!
Lastly, we mentioned it's free to get in, right?
——> IT'S FREE ENTRY! <——
No time-limit, guestlist or hassle – Just turn up!
+++++++++++++++++++++++++++++++++++++++++++
^^^^^^^^^^^^ LAUNCH NIGHT – March 4th 2016 ^^^^^^^^^^^^
+++++++++++++++++++++++++++++++++++++++++++
*EVERY 1st Friday of EVERY month at FIREBUG!*
*SHOTS FROM £1 / COCKTAILS FROM £2:50*
*Rock / Metal / Punk / Deathcore / Thrash / Alternative*
+++++++++++++++++++++++++++++++++++++++++++
Related Events
No Comments