Edinburgh Fringe Previews: Rob Carter & Fin Taylor
June 21, 2017 @ 7:00 pm

-

11:00 pm
Event Navigation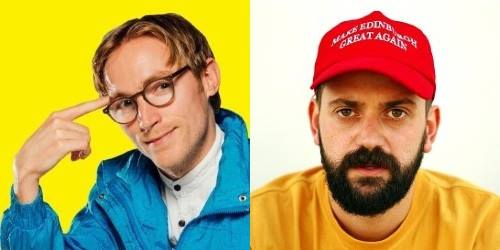 CHRISTOPHER BLISS – WRITING WRONGS
Christopher Bliss writes two to three novels a day. He's fairly well known amongst his family and friend, and he's pretty sure he's the best writer in his village. One of last year's 'hidden treasures' (Fest), Rob Carter's loveable character is back with a new hour of unique storytelling and literary blunders. 'One of the best character shows we've seen for a long time' (Comedy.co.uk). 'Consistently pant-wettingly funny' (Fest). 'This is a fresh, original show and one of the gems of this year's fringe' (FringeGuru.com).
FIN TAYLOR: LEFTY TIGHTY RIGHTY LOOSEY
The most talked about comedian from last year's Fringe is back. He's still white, and you're still hippies. Something's got to give. And I'm not blacking up. It's been a globe-trotting year for Whitey. He's been to America, Australia, Holland and the rest. All over, he's found people who say they're too left wing to vote for centrists and he's decided to call bull. A man who is now politically homeless drags you dropouts down into his gutter. ★★★★★ (Scotsman). ★★★★★ (Chortle.co.uk). 'Thought-provoking and side-splitting' (Independent). 'The most relevant comedian at the Fringe' (EdFestMag.com).
Related Events
No Comments