Cocktails Of The Week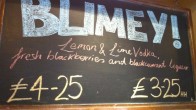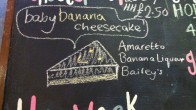 This weeks Cocktail of the week is called 'Blimey'. It's based on a recipe developed by the makers of finlandia, but using Cuba Lime and Lemon Vodka Liqueur, fresh blackberries and blackcurrant liqueur to make a fruity short and potent summer drink.
The Shooter of the Week is 'Baby Banana Cheese Cake' made from Baileys, Creme De Bananes and Amaretto. Lovely stuff.