A Preview of Firebug's Halloween Party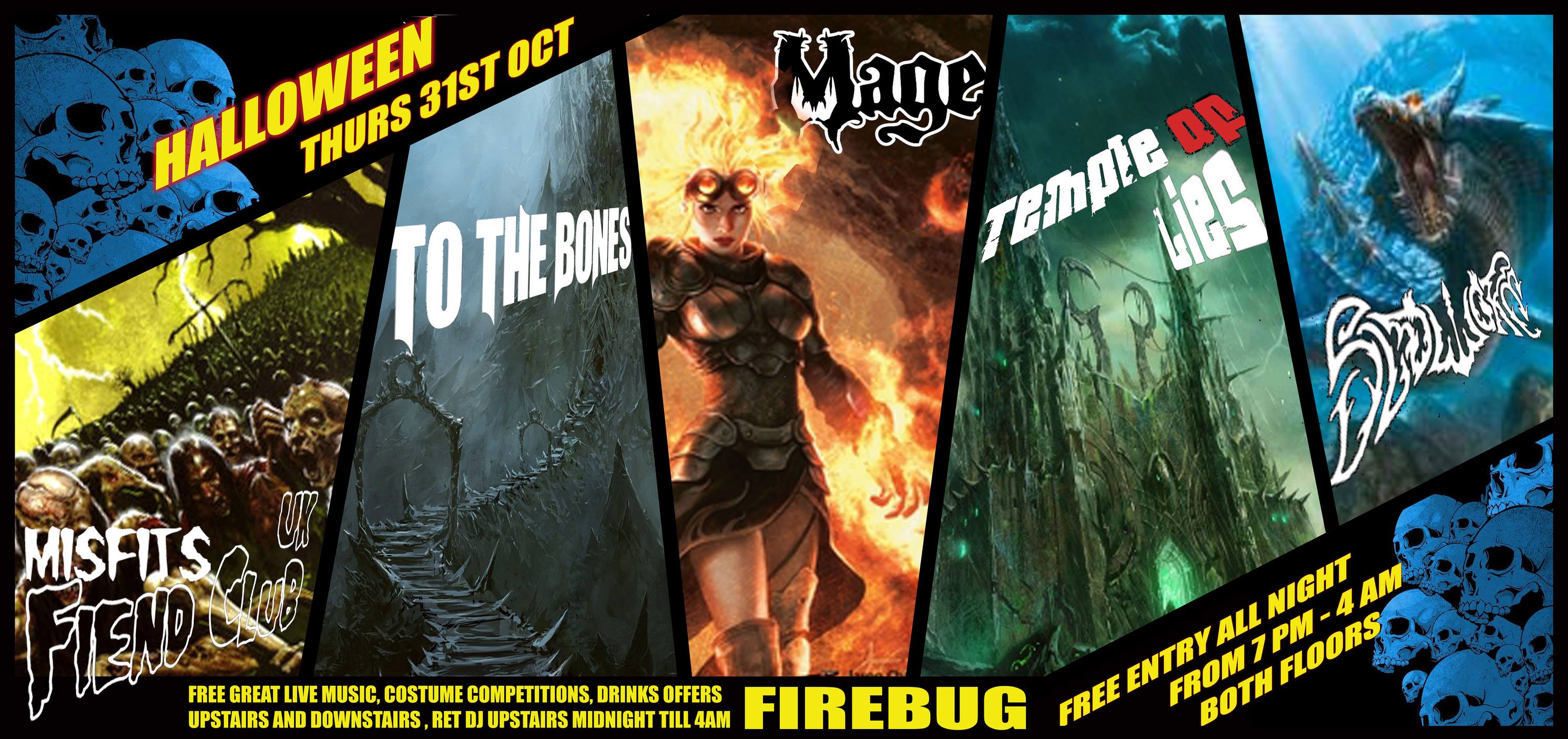 On October 31st this year we're putting on our biggest Halloween party yet. It's TOTALLY FREE and will be running over two stages – upstairs and downstairs. We'll have Costume Competitions with prizes including a Jack Daniel's Stratocaster Guitar, T-Shirts, Gig Tix and tonnes of random giveaways throughout the night. There will be Cocktail specials and discount drinks all night and Retribution DJs until dawn.
There are tonnes of things going on throughout Halloween week including a horror movie allnighter, A Halloween Party from local label Robot Needs Home and more live music than you can shake a stick at, but the Thursday night sees performances from this horrible lot:
TO THE BONES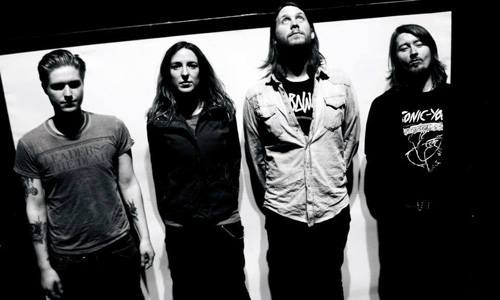 To The Bones are a 4 piece rock band born in glamorous Bolton and described by the NME as 'White hot slasher grunge'. The band have performed with many bands over the years including shows with The Eighties Matchbox B-Line Disaster, The Eagles of Death Metal, Hell is For Heroes, Oceansize, The Living End, Deerhunter, Pulled Apart by Horses, Dinosaur Pile Up and many more. The band have also played many festivals such Leeds and Reading, Guilfest, Camden Crawl, Offset Festival, The great escape festival and also a performed on a pilot TV show designed by Zane Lowe.
To The Bones have two releases to date …..An album titled ' Duke Type A ' and an EP titled ' Astral Magic ' which are available to buy on Itunes and through the bands own merch outlets. Limited physical copies are also available.
In 2011, original players Wayne Riley and Matt Evans parted with the band, leading the way for current members Chris Yates on guitar and Jude Jagger on bass to join To The Bones. They feature on all recordings from 2012 onwards which includes the single Emperor's Ride which was released on April 22nd 2013 and was mixed by legendary British record producer Dave Eringa. The single is available through all major digital retailers. ( see www.tothebones.co.uk for links. )
TEMPLE OF LIES
In 2006 Jon started a three piece rock band project with Justin Dobson (Kline, Konfusion) and Gregg Hunt (Cherry Choke) called the 'Dobson Jazz Theory' (DJZ). DJZ only ever played one gig at The Charlotte in Leicester supporting stoner rock band 'Joshia'. The name soon changed to Anaconda and that name remained while the original members went their separate ways musically.
Jon and 'Stickmaster' Barsby, both founder members of the Thrash Metal band 'Konfusion', started to Jam again and quickly put together new tunes using riffs and lyrics written by Jon for the previous Anaconda line up. About six months later Simo (also from Konfusion) was back on board wielding the Tool of Ignorance.
Before long TOL were auditioning a series of vocalists, both male and female but couldn't quite find a match to Jon's voice. This was followed by a six month stint as a three piece including the first gig.
Si Shaw's return from London and subsequent audition saw the line-up finalised as he added the finishing touch. By this time the band name was changed to Temple of Lies (TOL) after much deliberation and Jon continued to write riffs and songs to the rapidly growing repertoire of Temple of Lies.
The philosophy behind TOLs music is that pretty much anything goes, with no boundaries. As long as it rocks with a real groove that's all that matters. The aim has always been to produce a diverse collection of songs, all completely different and unique in their own way, with that signature TOL sound and feel. The writing is very mature and all band members play their part in this process with drive and enthusiasm.
Following the release of TOLs first and self financed album 'Monumental', they are busy expanding their coverage, playing support and guest slots with bands such as Kerbgrinder, Mage, Mentallica (Metallica tribute), Enraged (RATM tribute) and the list goes on…
TOL also organise and promote their own headline shows, private parties and festivals.
MAGE
Mage. Five unholy wizards compelled by the power of the riff and dark, dark magic. Forged in dragons fire atop a lightning lashed mountain in the year of our Lord two thousand and ten. Rumbling riffs combined with finely hewn words of power to conjure up images of otherwordly things creeping forth from the darkest reccesses… *ahem* …Sorry about that… If you have a low "fantastical bullshit" threshold, we're basically five guys who've been around in a variety of bands over the years, brought together by a shared love of "THEE RIFF" and a desire to jam and see what happens. Turns out that what happens is a Stoner/Doomy/Metal type thing, but with a whole bunch of other elements thrown in. First studio EP released in 2011 and first full album recorded 2012. Come worship at the altar…
SLOW WORM
Melodic weavers of cosmic despair. Gazers into the occult dream void. The initial Slow Worm release 'Dire Dioramas' was launched in April '13 in physical and digital format via bandcamp. Slow Worm are melodic weavers of despair, gazers into crepuscular voids of dream doom, and starlit travellers through the inner nights abysses.
'Are you into doom and the occasional fling with atmospheric shoegaze stuff? Living with someone else inside your brain that loves a bit of black metal? This is your band, follow them and kiss the ground they walk on.' – ninehertz.co.uk'It's great! Love the vibe of it! Congrats' – Ron 'Bumblefoot' Thal (Guns n Roses)'There's elements of Sabbath and doomy pioneers Neurosis on display here but without ever becoming derivative; the Worm aren't afraid to throw in a poppy hook here and there with vocalist Alan O'Neill showing his versatility with low end growls as well as hitting the high notes. If you like it heavy but cerebral Slow Worm are a joy.' Glyn Allen – themonograph.co.uk
FIEND CLUB UK MISFITS TRIBUTE
Back from the dead comes fiend club uk. They give you all the most fiendish and gruesome songs you want from all era's of the misfits. From "walk among us", "static age" and "legacy of brutality" to "cuts from the crypt" and "Famous Monsters". Come and witness the sickest of sickness !